Facts & figures
Company: Haval
Location: Gemert, Netherlands
Industry: Manufacturing
Solutions: 1 automated stacker, 1 platform pallet truck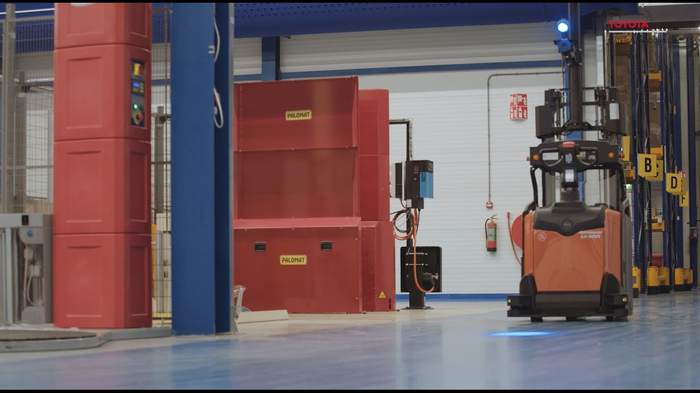 About Haval
Haval is a producer of disposables and packaging for the food industry for over 30 years. Development and innovation take place in-house and are part of business operations. Through continuous innovation of both the production techniques and the range, Haval has grown into a specialist in the field of cutlery, glasses and packaging. Every year, some 5 billion disposables leave the ultramodern production location in Gemert on their way to the customers in Europe.
Automation to increase operational efficiency
After an expansion of the production area three years ago, Haval wanted to increase operational efficiency by automation. The existing production processes already make extensive use of automation, so it was a logical step for Haval to look for an automated solution for internal transport as well.
Haval turned to Toyota Material Handling to set up a fully automated flow. In practice, this means keeping the number of AGV actions and pallet movements to a minimum.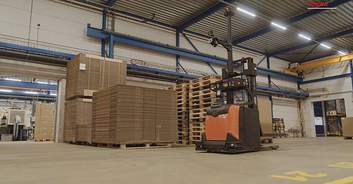 Automated li-ion stacker
An automated SAE stacker from Toyota now takes care of the transport from production to the warehouse and returning empty pallets to the packaging and production area. The AGV is triggered by ceiling-mounted sensors that detect the full pallets at the pick-up station. The automated solution comes with lithium-ion battery and opportunity charging, allowing the vehicle to go automatically to his charging station whenever possible. The software that drives the Toyota SAE communicates with the doors and wrapper for smooth operation.
More efficient work with less damage
"Collaboration between Toyota and Haval has been very good, from start to finish," says Roel van Dijk, supply chain manager at Haval, "we started with a solid framework, and during the execution, we chose for a more practical approach, which I appreciated a lot." Although Haval only has one automated vehicle, it allows them to do more with the same amount of people.. Roel van Dijk concludes: "I am convinced that the payback time will be shorter than the calculated 20 months. I just see that people work more effectively and we have less damage."